Chemical Warehousing & Distribution
AAA Freight Services excels in providing chemical storage, warehousing and logistics services leveraging the experience in storing and handling flammable and hazardous chemicals and liquids. Quality and efficiency are the by-words for every aspect of our operations.

Advanced safety, environmental protection and quality control systems, and strict adherence to industry standards and regulations ensure uncompromising safety and quality. AAA Freight handles the full range of chemicals, including flammable, corrosive, toxic and temperature sensitive products.It is our goal to harmonise our services with your specifications in such a way that you obtain the maximum value added benefits.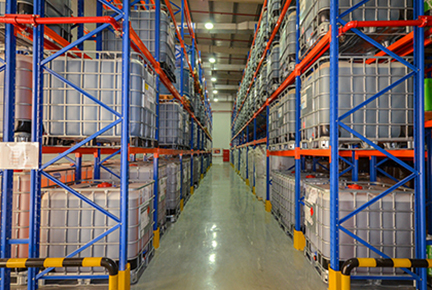 The state-of-the-art facility reflects the fast growth of the company in the chemical logistics sector & our intention is to create centers of excellence and core competencies to deliver value-added services and technology solutions for customers & as-well-as opportunities to drive cost out of supply-chain.
Value Added Services
AAA Freight offers a wide range of value added logistics in terms of repackaging towards a variety of chemical drum and bottles of various sizes, according to customers' needs. These services complement our extensive chemical transportation, storage, warehousing, and distribution capabilities, fulfilling our promise of delivering "Excellence Along the Chemical Value Chain".

Everyday is a new day for us and we work really hard to satisfy our costomer everywhere.
GET IN TOUCH
Jabel Ali Office

AAA Freight Services LLC.
South Zone, Jebel Ali Free Zone, Dubai

Call: +971 4 888 0000

Fax: +971 4 888 0004

info@aaafrt.com